SCREEN-FREE & STEM HOLIDAY GIFTS
In just two months our global community will be celebrating so many different occasions. Just to name a few– Diwali, Thanksgiving, Hanukkah, Winter Solstice, Christmas, Kwanzaa, and New Years. So, if you're looking for small and fun gifts to stuff into stockings on fireplaces or shoes outside doorsteps, to pass to your loved ones under the glow of candlelight or in celebration of winter and family traditions, check out what Messy Play Kits has to offer!
2021 Holiday Shipping Notice
Shop now for all your 2021 gifts. Messy Play Kits will be on Holiday Break from 12/11/21 until January. All orders placed by December 10 will ship this year. Any orders placed Dec 11 or later will ship out in January 2022. Happy Holidays!
These activities are safe for all ages, including infants and toddlers! The materials are taste-safe and washable!
Christmas classroom gifts for students, screen-free gifts for grandkids, nieces & nephews, play group, etc!
Holiday Subscription Deal
Order ANY subscription this weekend (Thur - Tues) and you'll receive a FREE BONUS GIFT in December's shipment
(no coupon code necessary!)
HURRY! This bonus ends soon!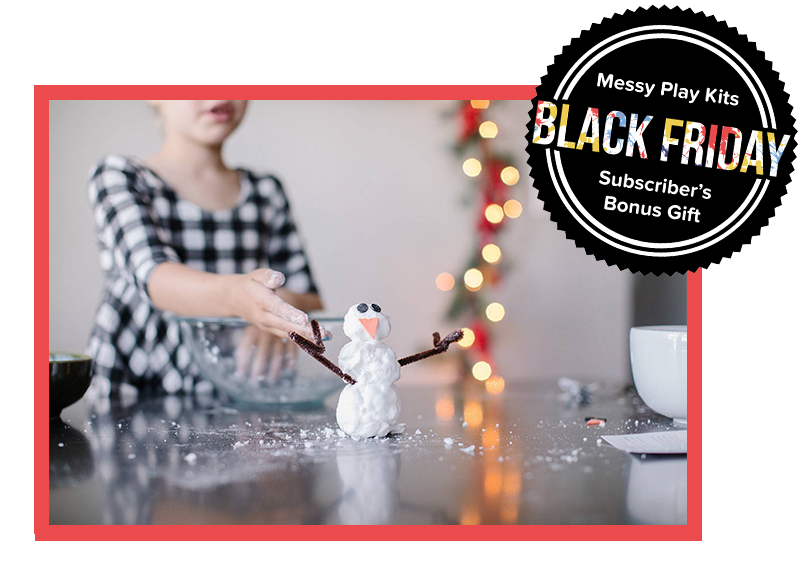 FIND THE PERFECT GIFT FOR:
Outdoorsy Kids & Nature Lovers