Can't Decide between Messy Play Kits or Sensory Bins?
What is the difference between a Sensory Bin and a Messy Play Kit?
Sensory play has become very popular over the years and there are so many types to choose from. Are you interested in buying a sensory based activity for your child but not sure what kind to get? Wondering if your child is too young? Too old? Wondering why sensory bins are important? Which type of play kit allows them to play independently so you can cook dinner?! To answer your questions, let's take a deeper look.
Compare & Select
At Messy Play Kits, we sell STEAM/STEM Project Kits & Sensory Play Kits delivered to your doorstep. Let's talk about how Sensory Bins and Messy Play Kits compare with one another so you can select the right one for you.
| | Messy Play Kits | Sensory Bins |
| --- | --- | --- |
| Designed for Ages | Ages 3-8 | Ages 3-5 |
| Play & Learning Style | 3-5 Structured, Educational Projects | Open-Ended Sensory Play, Dramatic/Pretend Play |
| Use | Mostly single use | Reusable materials |
| Adult Participation Required? | Yes, hands-on | No, independent play |
| Designed for | 1 Child | Sharable, 1-3 Children |
| Targeted Skills: | | |
| Cognitive Development | ✅ | ✅ |
| Fine Motor Skills | ✅ | ✅ |
| Language Development | ✅ | ✅ |
| Responsibility | ✅ | ✅ |
| Math | ✅ | |
| Science | ✅ | |
| Art & Creativity | ✅ | |
| Sensory Development | | ✅ |
| Social Skills | | ✅ |
| | | |
What's included in these different boxes?
Messy Play Kits
Inside each Messy Play Kit, you'll find three to five different activities for kids ages 3-8. They contain science projects, art activities, and sensory experiences based around a specific theme. The activities have specific steps and instructions, so they're a great way for adults and children to spend quality time together!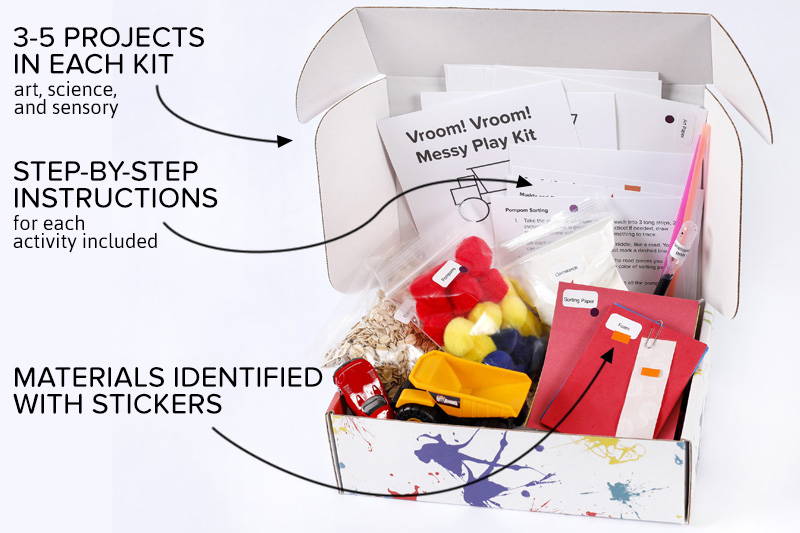 These kits make it easy for parents to provide educational projects and activities for their children without having to stress over the HOW and WHAT. All of the necessary materials, background educational info, and fully-tested instructions are right inside each box!
For Example: Activities in the Dinosaur Dig Messy Play Kit
Erupt a volcano
Hatch 3 fizzing dinosaur eggs
Make DIY dinosaur fossils
Sensory Bins
Sensory bins are a great way to keep your child engaged and learning for hours on end! Each Messy Play Sensory Bin is reusable and contains themed materials and props to allow for endless creativity and dramatic play, as well as fine motor development, cognition skills, and much more.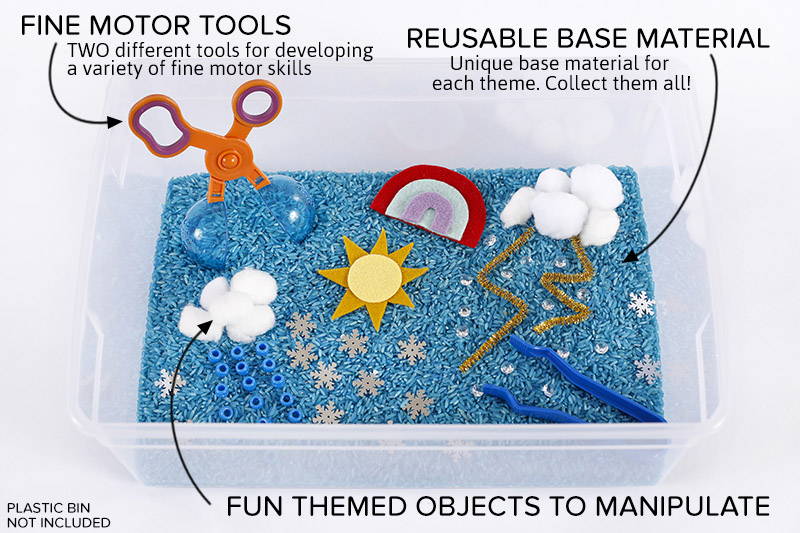 Inside each Sensory Bin box, you'll find a base material to fill the bin as well as tools to manipulate the materials and props. You can use any bin you have on hand (try a deep casserole pan, shoe box, or clear plastic storage bin!)
For Example: About the Dinosaur Excavation Sensory Bin
Dig for dinosaurs in a cornmeal base.
Includes cornmeal, dinosaurs, dinosaur skeletons, rocks, a magnifying glass, a paintbrush for excavating, and more!
Bottom Line
Both Messy Play Kits and Sensory Bins are very convenient and easy ways to provide educational screen-free fun for your kids. Grab a messy play kit for a fun and convenient activity kit to do with your kids together and stock up on open-ended sensory bins and let your child explore independent play. 
Shop all our Messy Play Activity Kits here →
Shop all our Open-ended Sensory Bins here →